I decided to switch things up and go backwards today, mainly because my dinner was a tad on the epic side. It seems a bit overzealous to call something that is so ridiculously simple epic, but when it comes to flavor, there's no other word to describe it. Well other than delicious. And quick. And easy. And oddly enough chickpea approved. And with that, we commence bombardment via sweet potato:
They couldn't be easier. Bake or nuke a sweet potato to fluffy perfection, pinch the ends together, and stuff with a mountain of arugula and feta. I love it so.
Lunch was leftover grilled salmon from my
Salmon Ciabatta Sandwiches
 mixed with chunk light tuna, avocado, and a little bit of mayo and scooped up with an obscene amount of honey corn bread crackers.
And lastly, breakfast was and egg, avocado, arugula, and cheese sandwich.
Uhhh yeah I bought a new plate set, why do you ask?
[I'm a bit obsessed with them as you can tell]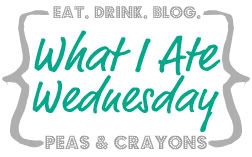 New to the party? [click here] for more info on our Wednesday shenanigans!