Who has two thumbs and forgot what day it was? This gal! I booked and then overbooked these past few days and, at this, rate won't be caught up until the weekend. So. Much. Oops. It's Tuesday night and I'm totally choosing sleep over blogging. Sleep sounds so good right now. I won't even read the spankin' new release hardcover that showed up on my doorstep this evening. Well…. maybe I'll just sniff the cover…
You guys can keep up the WIAW shenanigans for me right?
Thanks for that! On to your eats!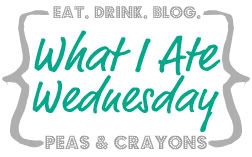 New to the party? [click here] for more info on our Wednesday shenanigans!