Happy WIAW!
For those of you that are new, on Wednesdays we like to get a little crazy around here. [click here] for more info on our food diary/reflection/inspiration shenanigans and feel free to join in anytime!
Breakfast was quick and delicious! I slathered some leftover French baguette with a little bit of cream cheese and lox and topped them with some windowsill-grown green onion. Add in a fresh nectarine and a cup of black coffee and I'm good to go!
Here lies the most terrible mess of a "crap I need to take a photo of this for WIAW" snapshot of my lunch. I raided my freezer stash of Slow Cooker Tortilla Soup because I needed something fast and the only other option was eating a block of cheese for lunch. Let's pretend that if I make the photo small enough, you can't even tell that it's super blurry!
Though I couldn't stay away from the cheese for long…
That photo also suffered from crap photo syndrome. I need to remember to snap more than one picture of things before I shove them in my face. I polished off 1/3 of the block [oops?] along with some carrot and cucumber slices.
I decided I probably should give the cheese a break and drag myself to the grocery store, which resulted in sushi. Tis tradition!


This. Times 10.
In other news, remember that baby I had? The one that was born a cooing, immobile, ball of cute like yesterdayish? She scaled an entire flight of stairs and then decided to take up walking. If you need me, I'll be maxing out my credit card ordering all the baby gates and bubble wrap amazon has. At least then I can properly unleash the kraken on the domicile and regain a shred of sanity before attempting to take this little over-achiever out in public. Ohmygosh! Hold me!
"I'm so excited! I'm so excited! I'm SO SCARED!"
Your turn!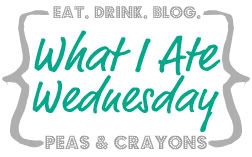 New to the party? [click here] for more info on our Wednesday shenanigans!