Morning darlings! I'm beginning to get a bit addicted to letting my friends run rampant with WIAW. They're sassy and I love them! I also just really love seeing what others are eating which, I suppose, is how we got into this whole What I Ate Wednesday mess in the first place. It's a good mess, though, right? It's a little less hot-mess and a little more let-me-lick-that-off-your-face mess. Or maybe that's another type of mess entirely. Regardless, I'm hungry!
Arman from The Big Man's World is here to man-up my blog a bit since I've been spattering it with way too much pink and bows and all things chickpea as of lately. We need some testosterone around here! Have at it, Arman!
I reckon Jenn asked me to host today's
What I Ate Wednesday
because she is inconspicuously trying to get me to gift her with multiple Tim Tams when I visit America….well maybe for the chickpea but not her. Unless she shares some of her creations with me.
[Why did I not think of this!? YES! Bring me allllllll the Tim Tams!]
Okay, enough about Jenn- this is my floor- Jenn's just dancing on it.
[well played]
G'day foodie fans- My name is
Arman
and I blog over at
The Big Man's World
– where pizza for breakfast is acceptable. Where I work out but still have chicken arms. Where I'm not afraid to be creative in the kitchen. Where I'm more than happy to throw a spanner in the works with taboo blogging topics.
My food photos are terrible, but I make up for it with my selfies of eye candy status.
Just kidding. If I was eye candy, I'd be the licorice jelly belly beans little children (and adults!) throw out.
[lies; this kid gives good selfie]
Breakfast-
Nut butter breakfast cookie dough
– These were prepped for the work week but cravings took over and they had to be satisfied. A sweet start to breakfast? Cue the all day sweet tooth cravings!
Snack-
It's ironic, but days I don't have a savoury breakfast, I end up having abit of a sweet tooth! This was no different- Come mid morning and I had a
3 minute microwave English Muffin
with a
chocolate spiked nut butter.
Lunch- Taking advantage of the final days of sunlight, I met some friends for lunch at a café in one of the 'hip' areas of Sydney.
Hip it was not. The food, however, was. We shared brie and rocket sandwiches, camembert stuffed mushrooms, truffle oil French fries and salt and pepper squid. Jenn if your not a fan of the squid, we can pretend it's a …umm chickpea.
[I think I nibble enough chickpea as it is // bring on the squid!]
Dinner-
I was lazy. The (dirty) waffle iron was calling me.
(Not really, it was waiting to be washed, so one quick swipe with a paper towel sufficed).
I made a batch of my
Pesto and Parmesan waffles
but 'accidentally' went abit heavy handed with the pesto so cue the most visually un-aesthetic waffles known to human kind. They were also the most delicious. I win.
So big love to Jenn for letting me host this mid week foodie party who all whip our hair back n forth to which puts Willow Smith to shame.
Now seriously…get off my dance floor.
Until Thursday.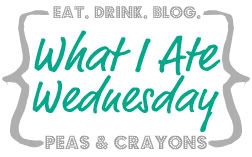 New to the party? [click here] for more info on our Wednesday shenanigans!