Phew! So having some friends take over the blog has been fun, but I couldn't stay away for long! I mentioned a while back that I've been dabbing in intermittent fasting. It intrigues me to no end, but it's absolutely not something I'm prepared to tackle at the same time as an intensified fitness regimen, I'm just too freaking hungry. Let's toss that experiment on the back burner as I proceed to stuff my face as per usual.
Before I begin, I
have
to share yesterday's breakfast with you. I've been splitting a small avocado a day with the chickpea and when we're not attacking it straight up with a spoon, it's getting
smashed all over my toast
.
Or in this case, my bagel.
I pretty much want this daily for the rest of my life.
In case you want to drink the kool-aid and get in on the action, it's super simple to make!
Toast up a bakery-fresh bagel [if you're in NY… I envy you and expect bagels on my doorstep stat!] and spread it with cream cheese. Top it with a ripe slice of tomato [bonus points if you have heirlooms handy!], thinly sliced cucumber, smashed avocado with a pinch of sea salt and lox
It won't fit in your mouth, but you'll have fun trying!

TWHS
And now? Our weekly What I Ate shenanigans!
[B] scrambled veggies and eggs with OJ and an english muffin with Laughing Cow cream cheese
[S] Unphotographed crinkle cut carrots and a few spoonfuls of the chickpea's yogurt. I also took my fancy new supplement:
The folks at
Adora
were kind enough to send me some samples of their indulgent vitamins for Mother's Day. Hello awesomeness! It doesn't get much sweeter than the gift of chocolate! Oh come on, you knew this was going to be cheesy the second you saw the photo right? Calci-YUM? Yeah. Paul actually gets credit for that one since I thieved the word from him just like he's been thieving these chocolates since they arrived. Each dark chocolate disc has 500 milligrams of Calcium along with Vitamin D3 and Magnesium as added oomph. They're also positively delicious and really, really, ridiculously hard to hide from your chocoholic husband. In all seriousness, I'm super grateful for the chocolates and you should totally
check them out
; they're the tastiest vitamins a girl [
and Paul
] could ask for!
[D] shrimp ravioli, asparagus, and green beans tossed with pesto and topped with freshly grated Gruyere cheese and red pepper flakes.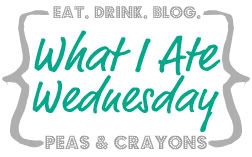 New to the party? [click here] for more info on our Wednesday shenanigans!