Morning! I have another guest taking over WIAW this Wednesday. The timing could not be more perfect, as I'm contending with what could only be described as a killer headache from outer space that may or may not have everything to do with the adorable screaming banshee that is making sweet ear drum assaulting music with my pots and pans currently. So cute. So painful.
Woooo-weee!! I am so delighted to be Jenn's guest this week! She's the only other person I know who shares in my die-hard obsession for veggies, so you can bet I was over-the-moon at the chance to guest blog for this week's What I Ate Wednesday! I've been WIAW-ing for a while now…Yes, I use "WIAW" as a verb, pronounced wee-aw. This is common Serena-speak that my friends all understand! And you can bet that WIAW-ing weekly always inspires me to play with my food eat my veggies.
That time I brought my friend Brocclyn to get his fro' blown out at Dream Dry in NYC. No one ever taught me not to play with my food.
Anyway, let's talk about the eatzz! First thang ya gotta know about this registered dietitian is that I loveee me some breakfast (also known as an excuse to eat eggs!). One of my fave breakfasts is to simply bake pastured eggs on top of butternut squash and kale with chunks of chicken & apple sausage. And when life demands breakfast-on-the-go, I still use it as an excuse excuse to eat eggs. Pfft- Forget bagels.
[note from Jenn: Serena, you are hereby banned! Bagels are life. Always]
[
though veggies are pretty awesome too
]
Say hello to my little friend: veggie packed egg bake slices!
An egg bake packed with baby kale, onions and peppers= VEGGIES GALORE!
Lunch nowadays has been
interesting.
I am completely obsessed with eggplant, which is absolutely
not
in season, but I cannot get enough! I bulk cook a
Mediterranean eggplant bake
once weekly, and nosh it all week long! Sometimes I even get a little cray and add some
steamed kale
or
pine nuts
!
I have an awesome secret to share with those of you who are lazy cooks (so this pretty much excludes you, Jenn!), I have discovered a freakin' awesome meal starter containing only
real food ingredients.
The company is called
CookSimple
, and their products' ingredient lists are phenomenal. I cannot say enough good things! This week I cheated on dinner by preparing their
white bean chili mix
which contained awesome REAL foods like beans and chia seeds sans fillers, preservatives and weirdness. SO AWESOME! Mix in some
shredded chicken
and
spinach
(duh, ya think I'm gona let a meal slip by without some veggie power?!)– and
voila!
I can't choose if I'm more excited over how yummy this was or how easy-peasy it was to make!?
Last, but certainly not least, my sweet tooth must always be sated. Enter Larabars to the rescue! Yuuummm…Cashew Cookie!
Anyway, a big THANK YOU (as always!) to Jenn for hosting the yummiest partay on the interwebs! And be sure to stop by my
blog-a-roo
sometime to say hello! 🙂 I'm always looking for new nutrition nerd friends, fellow foodies, and runner buds!
[You're still banned for that bagel blasphemy. Thanks for hosting Serena!]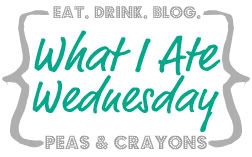 New to the party? [click here] for more info on our Wednesday shenanigans!