Hey hey, Peas & Crayon-ers!

Heather here from Kiss My Broccoli, popping in to take over Jenn's WIAW! I love What I Ate Wednesday and have been participating regularly since she started it over THREE years ago! It's amazing to see how much it's grown and I think it's an excellent way for us foodies to discover new ideas for meals and snacks as we all share some of our favorite morsels.
The thing I do NOT love is when people use it as a means to judge or criticize others or to compare themselves based on what is posted. You have to remember that what a person is showing is just ONE day…without any relation to days before or after. Back when I was an obsessive calorie counter, I would beat myself up over days where my appetite was raging, but now that I've separated myself from that part of my life and have learned how to be an intuitive eater again, I truly believe our bodies have that natural instinct for balance.
To prove my point, this week, I'm showcasing TWO consecutive days of eats that are so different that I actually surprised myself at the end of day two. I have a tendency to eat like a bird, but after two days of hot yoga, I guess my appetite was kicked into gear! Check out THIS POST over on my blog to see what went down the day before and notice the differences yourself!
Saturday morning, I rolled out of bed and opted for my tried and true no-think breakfast:
A mix of cereal topped with peanut flour, persimmon, and a few thawed from frozen blueberries! For the record, persimmons + blueberries = amazing!
Afterwards, I fixed myself a cup of Earl Grey Lavender tea with a splash of almond milk…and hey, I actually remembered to drink the entire thing this time! 😉
Tom Kha soup (hoarded from my trip to Nashville the weekend before) and a handful of (unpictured) broccoli that I threw down while the soup was nuking in the microwave…told you I was hungry!
I had plans to meet my girlfriends for dinner and a movie around 4pm that night, but since I knew we wouldn't be eating until closer to 6pm, I had a snack before heading out the door.
Hello, my name is Heather and I don't understand the concept of a grab-and-go bar. Let's face it, a crispy BAKED cookie dough Quest bar is FAR greater than a straight-out-the-package Quest bar!
Which is probably a good thing since the Wild Mushroom & Goat Cheese Flatbread I ordered came out on a slab the size of a small child. Don't believe me?
That would be my hand hovering just

an inch

above the flatbread! Ha! I actually only managed to eat about 3 1/2 pieces but I made sure to wash them down with an (unpictured) glass of Pinot Grigio!
At the movies, I didn't order anything, but my friend offered me some popcorn later on so I ate one handful while I drooled over Theo James! 😉
MAAAAA-uch later that night, back at the house, I was all of a sudden starving again. I had another piece of my flatbread (because you better BELIEVE I asked for a doggy bag!) and then a little something sweet before I finally called it a night…
A pink lady apple and a new-to-me Grahamful flavor, cinnamon creme (it was ok, but the peanut butter is still my favorite!)
In comparison to the day before, on this day, I had three square meals, two snacks, AND a glass of wine whereas the day before I only had one full-fledged meal. So…How many calories did I consume? It doesn't matter. Did I feel satisfied after each meal? You bet I did. Did I skip breakfast the next day or head to the gym for a crazy workout to compensate for all that I ate for dinner? Hell to the no!
Listen to your body.
Don't judge.
Don't compare.
Just eat!
What was the BEST thing you ate yesterday?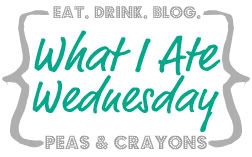 New to the party? [click here] for more info on our Wednesday shenanigans!