Holy cow! Is it seriously Wednesday? Really!? Last year might have been the slowest moving year of my life but this year has obviously taken a Jessie Spano sized dosage of no-doze and is SO EXCITED!
While I desperately want things to slow down a bit [I'm in no rush to thrust myself into another military deployment. YUCK!] I wouldn't mind if the rest of this month to sped on by. Two of my favorite people are getting hitched next month and I cannot wait to watch them tie the knot! I'm also excited about Valentine's Day for once in my life because I have a smooshy little cherub of a baby to celebrate it with! She's obviously MY Valentine. Paul will have to find his own. Unless he wants to bribe me… in which case I challenge him to bah-ring it. Last year he was able to win me over with coffee and a bagel. I seriously need to step up my standards a bit.
Though I still expect that bagel.
What I Ate Wednesday #157
[
breakfast
] blueberry yogurt and a banana [
lunch
] lean cuisine's butternut squash with veggies (holy cow these are good! I don't eat frozen meals often but when I do, it's this pasta veggie combo or veggie korma) [
snack
] the chickpea didn't finish her mini avocado so I mashed the rest into guacamole for myself! Ole! [
snack
] two insanely addictive carrot cake muffins [
recipe
] …or maybe it was three? I lost count! [
dinner
] baked spaghetti — it's somewhere under that obscene lake of cheese!
Totally different day… but I also managed to face plant into some sushi recently on a mini road trip to Raleigh with the fam. Mia had her usual avocado while Paul and I split fried pickles [swoon!] and a platter of sushi. I keep thinking the day will come that I'm thoroughly exhausted of sushi but surprisingly it's downright impossible! I can live with that!
The roll with the crazy traffic light-themed toppings is called the Tropical Storm. It's essentially cucumber, avocado, and imitation crab topped with salmon, yellowtail and tuna and with fancy flavored masago. I'll branch out and try a different roll eventually but until then, I keep ordering this one on repeat whenever I'm in town!
Raleigh road trips are our favorite!
Like Jessie, Paul was also SO EXCITED!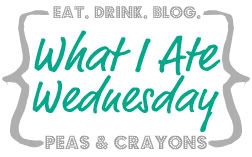 Your Turn!
Show us your eats!
New to the party? [click here] for more info on our Wednesday shenanigans!