Happy
WIAW
, kids! I'm still playing catch-up with the bazillion and one food photos I took during my time spent at the naval base in Florida so… here's another day of hotel eats!
Oh and yeah… Still no sign of the chickpea. She's being a tad dramatic.
Imagine that =)
Starting the day with an unphotographed 6AM banana and berries at a more acceptable hour…
Then on to coffee and cereal!
Cheerios with unsweetened almond-coconut milk and blueberries
I'd typically get ravenous waiting for P to get home for his lunch break so tuna salad and crackers was a go-to snack to hold me over! The Fresh Market makes a
phenomenal
tuna salad and the crackers were courtesy of my friends over at
Milton Craft Bakers
. Thanks guys!
PS: Want to win a CASE of these crackers?
Enter the giveaway [here] — Today is the last day to qualify!
Lunch often consisted of leafy green caesar salads with organic cherry tomatoes [
those salad kids, by the way, are a total lifesaver for hotel living!
] and then a mishmash of whatever we've collected from grocery stores and delis around town. Typically goodies from
Four Winds
like their amazing turkey salad and tabbouleh along with more fresh fruit and crusty baguettes. So yummy!
Dinner was usually a toss-up. We'd sneak away to a local restaurant, devour leftovers from the night before, or heat up one of our favorite healthy "TV Dinners" in our microwave. Our favorite are these
Amy's Indian Vegetable Korma
dishes; they're vegan, GMO-free and absolutely fantastic!
And of course desserts were typically the frozen fruit and sorbet
bars
I told you about last week: It was super hot in our hotel room so they quelled my sweet tooth while keeping me cool! Win-win!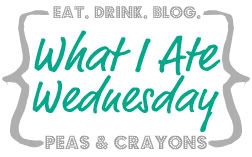 New to the party?
[click here] for more info on our Wednesday shenanigans!