I think it's safe to say that summer is in full force! It's so hot outside that all I seem to crave are fruits and veggies. Cold ones. In my face. At all times. I guess that isn't super out of the norm for me but the amount of fruit I'm putting down certainly is! Watermelon has become as abundant as actual water in my diet and cherries, berries, and peaches are a close second. It's positively delicious and I'm going to miss these seasonal beauties once winter creeps up on us. Until then? Eat ALL THE FRUIT! <3
And veggies. Always veggies =)
Without further adieu, here's my fabulously fruity What I Ate Wednesday!
I have trouble facing the morning without one of these and it has become quite the tradition to always have a banana on my nightstand to quell my typical morning queasiness. It's gotten to the point that I pretty much sleep-eat my banana. I wake up to an empty peel and wonder where my snack went. Thank gawd I at least have the decency to peel it in my sleep. I don't know what I'm going to do the morning I realize I've eaten the whole thing – peel and all! Fingers crossed it doesn't come to that… though it would make a funny story!
Great now that I've said that I'm totally going to eat the peel.
"Don't you put that evil on me, Ricky Bobby!"
Breakfast was a refreshing blueberry-spinach smoothie and a super-ripe peach
And snacks were equally as fruity…
For lunch I scarfed a slice of the
frittata
I've been recipe testing for you kids — I've been living off these things lately and cannot wait to share the recipe! It's a perfect pairing for even MORE fresh fruit!
Dinner was nearly an exact repeat of lunch. We were playing the clean-out-the-fridge game and clearly winning at it. We paired the leftover frittata with a foil pouch of grilled veggies [seen below] and then happily licked our plates clean.
I've been making this same foil-packet of deliciousness for a few weeks now. It's a combination of red and yellow onion, cubed sweet potato, zucchini, chipotle olive oil, salt, pepper, and fresh garlic. We usually make a large pouch with dinner and then chow on the leftovers with breakfast or lunch the following day!
And as for dessert?
I don't always eat it… but when I do… I go all out! =)
I know, I know. I'll post the
recipe
soon =)
Pah-romise!
Until then, show me what you've been noshing on!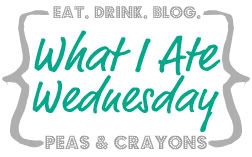 New to the party? [click here] for more info on our Wednesday shenanigans!