ahhhh! this is our last installment of
summer staples
! It's kind of fitting considering summer is
almost
over. I'm going to miss it! Luckily I have some tricks up my sleeves for the next few months worth of WIAWs that will keep you guys happy, healthy, and on your toes. Also, with veggies in your face. That's how we roll here.
side note — We're on number EIGHTY FOUR!? This is the party that never stops! Do you guys perpetually have your party pants on or something? We've established that I don't exactly wear pants but… I guess I will keep a party hat on for good measure. It's only fitting.
So my WIAW is ridiculous… I have some road trip adventures to share as well as a standard day of eats b/c my road trip food photography was lacking. Seriously — we were so preoccupied with getting the food into our faces that we forgot to snap photos. Paul and I did manage to get a whole foods hot bar photo montage of our face stuffage though. Pay no attention to the food dribbling down my chin. I lose all control around veggies. Especially a box of Whole Foods Market hot bar veggies. *drool*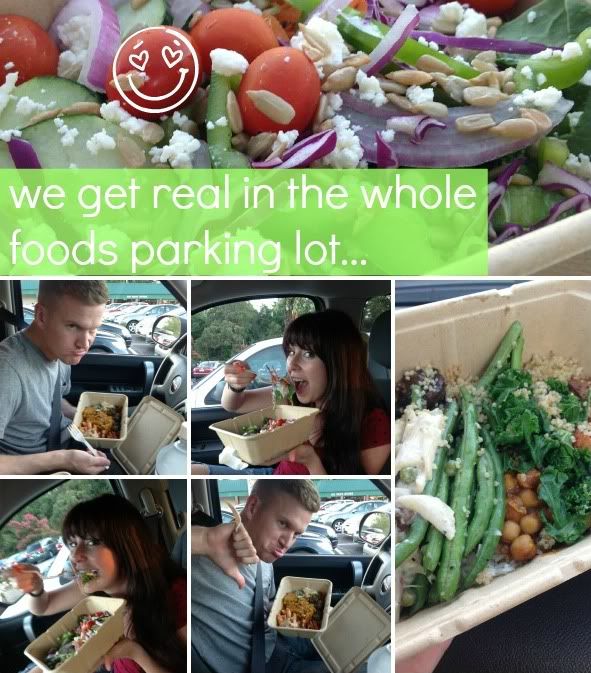 I asked Paul why he was pouting and giving a thumbs down and he insisted it was because he's a dirty carnivore with a hot bar box full of meat. I snorted.
I think I'm going to be a brat and save the rest of our road trip shenanigans for it's own post.
So until then, here's my What I Ate Wednesday day of eats from last week! <3
black coffee [duh!] fresh fruit and an icy cold glass of trilogy kombucha with apple cider vinegar
snackage of fresh crinkle-cut carrot chips and english cucumber
Hello most unconventional snack ever! I love these almond-green bean freezer packs from Green Giant
I'm not one to deny myself a small mountain of macaroni and cheese when the craving strikes so finding a way to turn it into a balanced meal is a must! I make mine
confetti-style
with a boatload of veggies from the fridge and freezer and a pinch of garlic powder, parsley, and red pepper flakes for extra oomph! Now the typical 1 cup serving of macaroni and cheese is bulked up with an extra cup of veggies, so instead of a small sad scoop, I can have a PILE of the stuff! I round out the meal with a big green salad and indulge without even the slightest smidge of guilt. Its balanced, beautiful, and freaking delicious!
It's funny… because it's true =)
Want to join in on the fun?