As I mentioned yesterday, I've been traveling entirely too much. The plus side is surely how fast this leg of the deployment is going thanks to these mini road trips. Oh and the fun factor is a plus too, I LOVE travelling! The down side, however, involves a
spiteful feline
, a pouty ferret, and and an overwhelming desire to hibernate. I'm sitting in my bed as I type this and, let me tell you, the pillow is seducing the crap out of me. Hopefully I can get through this entire post without passing out face first on the keyboard. Wish me luck! =)
For my day of eats… er… its kind of the most boring ever! I was still rockin' a food coma from all the amazing food from the weekend, so what I ate before and during the ride home was snack-y and lacking veggies/substance. Boooooring! Trust me when I say I made up for it today with a day full of recipe testing and kitchen experimentation =) I'll reveal the recipes as soon as I get off pinterest I can.
So without further adieu, here's my semi-wordless, super-sleepy What I Ate shenanigans:
This is pretty much how I feel about my day of eats this time around: not enough veggies! Grr!
and while I have you captive here, a weekend collage is also in order!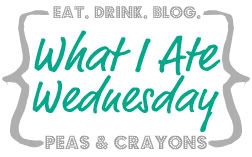 Want to join in on the fun?