Though my husband swears it's creepy – I
love
a good blogger meet-up! Especially when it's with Maria who lives just a few hours away! The beauty behind
A Life to Bragg About
invited me to spend the weekend with her and, as if you ever doubted it, we spent more time eating than sleeping.
If you already follow me on
instagram
then you've probably already seen these bad boys:
Blue Moon Cafe… I loooove you!
I *almost* wish I had talked the waitress into taking pictures of us trying to eat it. It got everywhere. Cheeks… Noses… Elbows… Butts… and I suppose a fair amount made it into our bellies as well. We're classy bloggers, and don't you forget it =)
fig, goat cheese, and caramelized onion crostini from Blue Moon Cafe in Fayetteville, NC
another Blue Moon Cafe home run: crab dip with veggies and pita points
Clearly I'm in love with this restaurant! It's super cute – especially their specials menu:
Does anyone else want to hunt down an old beat up palette and
a can of chalkboard spray paint?
We also had a little fun in the kitchen:
impromptu gluten-free veggie mexican pizza with black beans, peppers, tomato, corn and avocado
and Cinco de Mayo was celebrated in style with some rockin' Mexican food:
mind-blowingly-awesome fish tacos at El Cazador in Fayetteville, NC
followed by a night out with these amazing ladies =)
Ole!
Eventually I had to drag my butt home and go back to a life of Starbucks, salads, and
stuffed sweet potatoes
. But I'm not complaining one bit =)
So…. what have you been stuffing your face with?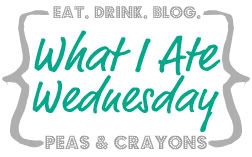 Want to join in on the fun?