It's Wednesday! It's also the 70th What I Ate Wednesday link party.
We should probably get it a few packs of depends for its birthday….
As promised, here's part 2 of [
What I Ate… on the Beach!
] as well as a few other dishes I've been scarfing in
heavy
rotation this week.
Starting with some Bento Box sushi:
This is quite possibly one of my favorite sushi restaurants in North Carolina! They have really awesome vegetarian rolls and really unique elements such as their wasabi-infused sesame seeds. They also have a little flat screen that brodcasts live feed from the chefs while they make your rolls — Paul and I have picked up some amazing tips here and have really honed our
sushi making skills
thanks to
Bento Box
=) Love this place!
Other amazingness from the weekend:
[black bean taco salad + cajun rubbed corn from
Las Olas
] [special K strawberry cereal with fresh blueberries] [the best deviled eggs of my LIFE, roasted carrots and brussels sprouts, parm + lemon tilpia, and fried okra] [my new favorite flavored yogurt – Voskos apricot mango] [eggplant, tomato, and goat cheese pizza from
Osteria Cicchetti
] [scrambled eggs, smashed potatoes, and a fluffy chocolate chip waffle from
Causeway Cafe
]
Now that I'm back home and settled,
I've been cooking up a storm & eating leftovers like there's no tomorrow:
I've rambled enough — Let's see what you've been eating! <3
Happy What I Ate Wednesday!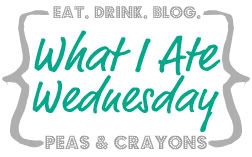 Want to join in on the fun?
Yayyy I can't wait to read all of these!