I'm so scatterbrained.
I rushed out the door so super fast that I left my memory card (and all my WIAW photos!) at home! Now while I would love to say it was the WIAW party that threw me out the door so fast, sadly it's not so. I was determined to snag yesterday's $20 Whole Foods gift certificate for $10. Oh yes, I couldn't resist. Did you buy one too? 10 free dollars at whole foods is enough for a few kombucha teas and some yummy produce is a done deal for this girl! Especially when I have another Raleigh road trip planned for the end of the month to get my Whole Foods, Trader Joes, and Homegoods fix! <3
Long story not-so-short, my day of eats is missing in action. Bright side? I have photos for next week! Even brighter side? I take half my WIAW photos on my phone… and photographed a ton of my on-the-go eats during road trippage and the recent move, so you will get a peek at what kinds of fast food I stuff in my face when there are no groceries in sight and your tummy is furrrreaking out for something. STAT! <3
Disclaimer: I tried to plan ahead and stock my bag with clementines and larabars but I lost my healthy snack stash in the move [Found it a few days ago actually! Whoo!] and was left to fuel myself on oranges alone. I practically turned orange in the process =) True story! Sign me up for Jersey Shore baby!
Did you manage to read all that? I hope so!!!
*this is not all one day, read above for details silly <3
A few of the things I order when fast food in inevitable
[aka what happens when everyone else in the car wants fast food except me. Bullies!]
[Taco Bell Mexican Pizza with beans and NO BEEF] [Taco Bell Taco with (yum!) instead of meat] [Un-Sweet Tea] [Falafel-Hummus-Eggplant-Salad platters at Sahara Pita] [Water Water Water] [Burger King's Morningstar VEGGIE BURGER] [Kombucha to help these foreign eats digest properly! HAHA!] and [Schlotzky's toasted veggie sandwich]
Happy What I Ate Wednesday!!!

<3
Mandatory: add the WIAW button + link somewhere in the post you are sharing so your friends + readers can see what you're up to and join in on the fun too! Or simply so they can stalk everyone's posts like we do =) Email me at PEASandCRAYONS [at] gmail.com or Tweet if ya need help! MWAH!
Please please please make sure any recipes you link up are part of a what-I-ate post and not simply a recipe. This way we can
keep WIAW food diary focused… since that's what it's all about! Plus it ups the inspiration factor =) Maaaajorly!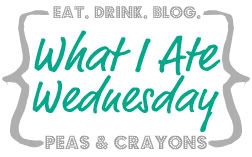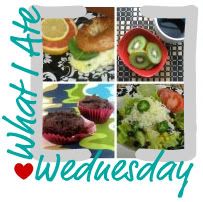 Now if you'll excuse me…
I need to get back to channeling my inner Dexter and wrapping my house in plastic.
To Paint =) duh!
See you super soon!
Internet is scheduled for Thursday! Cross your toes for me! <3