Hi! I'm Cat from the blog…
and I'm excited to be crashing Peas & Crayons today to share some design inspiration for Jenn's future living room!!
Now, I'm kind of a stalker because I went into Jenn's Pinterest files and scoped out all of the design features that have been catching her eye lately. Because of all that detective work, I know she is loving gray walls and trying to figure out how to make a brown leather couch blend into a beautiful design! So, here's what I came up with to help her out:
Jenn was crushing on a sleek gray zebra print rug and of course, trying to work around a big brown couch:

I'm obsessed with geometric prints, and I know Jenn loves them too. The subtle pattern on this IKEA chair will coordinate with the gray Jenn wants on the walls without being too overpowering. Any bright color would work as an accent in this room, but I couldn't get enough of these bright yellow pillow covers.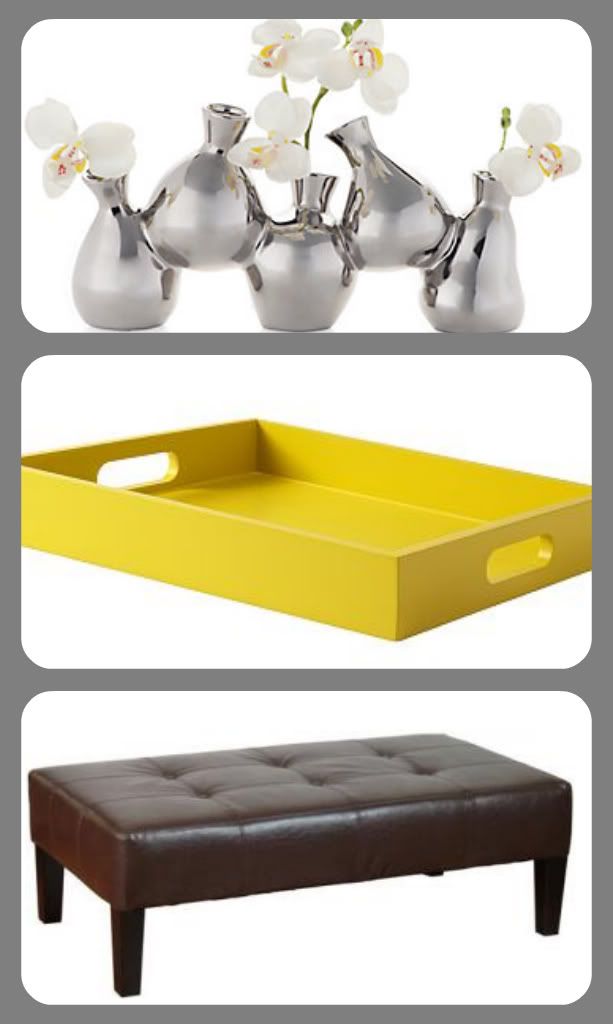 I've seen so many amazing DIY upholstered coffee tables, but this one is also gorgeous and under $150.00. Fun accessoires like the yellow lacquer tray and vase give some color to the room and also some function so Jenn's hubby has a place to put all his legos and remote controls. 🙂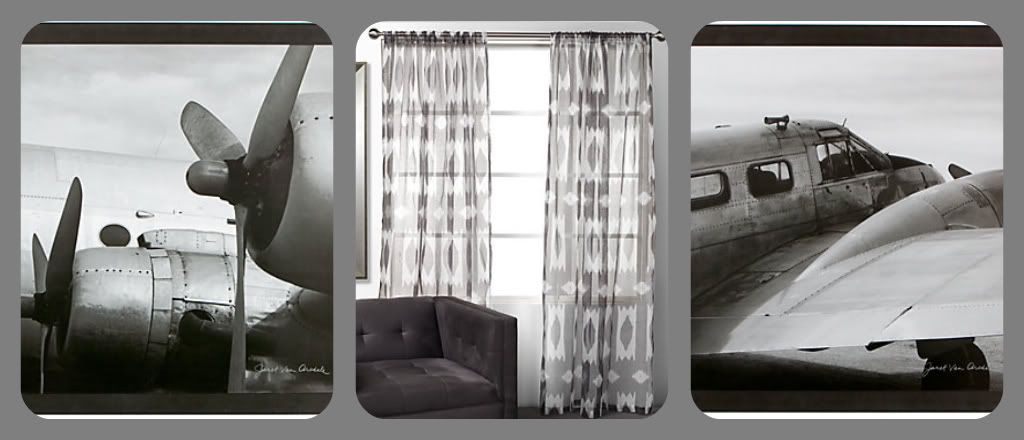 I thought Jenn's hubs would like these vintage photographs of military planes given his career, and the subtle geometric curtains add more depth to the room. Brighter colored curtains would work great as well.
ZGallerie Vintage Flight Photograph art
1
and
2
both $89.95 and 27" x 27"
I couldn't let the room have too much gray, and I just fell in love with this Target tripod lamp. It's sleek and modern without being too edgy. This gorgeous pillow from ZGallerie also coordinates with the colors in the room and adds a few more with some pops of turquoise and lime, colors I know Jenn loves.
Well, that's the roundup of some design inspiration for Jenn's living room!
I can't wait to see what she comes up with!
If you purchased all of these items new, the room would cost around $1,700.00. However, being the Budget Blonde that I am, I have to say that you could easily cut this price in half. First, work with a couch you already have instead of buying a new one. Second DIY your own upholstered coffee table. There are tons of tutorials for this online! Third, sew or hem-tape your own curtains. Lastly, grab a couple cans of spray paint in your accent color and spray lamps, tables, trays, ceramic animals, and whatever else you can find on the cheap at thrift stores & garage sales!
Thanks so much for letting me crash your blog Jenn! And for anyone else wanting design inspiration on a budget, please visit my
blog
,
twitter
, and
facebook
pages!
xoxo,
Cat