So today's eats feature last Wednesday's eats! Yum =)
Can you tell I'm a teeny bit obsessed with my new dish towel?
I think it's in nearly every photo!
Water + Donut House Coffee, black + extra bold
1 slice of Leftover thin crust pizza w/ pineapple + jalapeno. Breakfast of champions!
Tortellini pasta salad with pineapple, cucumber, greek dressing + feta
More water
Banana Soft-serve w/ Love Grown Sweet Cranberry Pecan Granola
Want to make your own? This lil trick is all over blog land! Pop a peeled banana in the freezer when you have a chance + allow 24 hours of freezer time. You can make homemade dairy-free soft serve by tossing a frozen banana and frozen berries in your food processor or blender and blending away! First you'll end up with frozen fruit crumbles and, after further blending, you'll wind up with a creamy whipped soft serve made entirely of fruit! The combinations of fruit and toppings are endless! <3
8 Crispy Baked Shrimp Wontons [recipe coming soon!]
1 glass of Barefoot pinot grigio
Your Turn!
Show of what you're bringing to the party!
I'd love to see a day in the life of you! Meals, snacks, drinks — all that good stuff!
If you only have a meal or two to share, thats great too!
Don't forget to
add the What I Ate Wednesday
BUTTON
somewhere in the post you are linking up so other bloggers can join in on the fun too!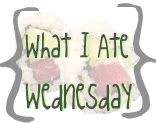 Erin at The Healthy Apron came up with a fun May challenge!
Meat-LESS May encourages all the T-Rex chefs out there to get their veggie on and eat less meat-centric meals! For instance, if you eat animal protein daily, you can mix things up a bit by switching to every other day or even just once or twice per week! Erin encourages everyone to make their own personal goals eating less meat this May. What a great idea!
What are your goals for May?
My goal is to conquer indecisiveness + design my next house!