wHappy WIAW darlings! Don't judge… but I totally got wrapped up in shopping and accidentally skipped lunch. Luckily I made up for it with two protein rich snacks and one heck of a dinner! I try to avoid skipping meals at all costs b/c I'm pretty cranky with an empty stomach. Haha, also, I like to keep my metabolism a well fed and well oiled machine =) So here's a little "oops" day to hold you over. If I get any comments asking why I ate yogurt for lunch I'll know you didn't read this =) Haha you've been warned! <3
Kiwi
Apple Cinnamon Purebar
Newman's Own organic coffee, black
Water + Chobani Blueberry Greek Yogurt [crazy busy day!]
1 serving of Falafel Thins, plain
1-2 cups of steamed + salted Edamame
Two mini KitKats (The last of the easter candy stash! Thank goodness!)
Your Turn!
Show of what you're bringing to the party!
I'd love to see a day in the life of you! Meals, snacks, drinks — all that good stuff!
If you only have a meal or two to share, thats great too!
Don't forget to
add the What I Ate Wednesday
BUTTON
somewhere in the post you are linking up so other bloggers can join in on the fun too! =)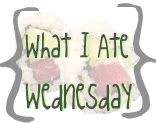 This week's WIAW is brough to you by the lovely Heather of
Kiss Mah Broccoli!
She rocks! Stop by and say hello!