Happy What I Ate Wednesday!
Oh. My. God. Becky! Look at her plate… there are like french fries and stuff on there.
Duh Winning Moderation!
1/2 cup Donut House coffee, black
Amazing Grass smoothie with blueberries, spinach, and ground flax seeds
Mediterranean Platter at Sahara Pita in Wilmington, NC
Baba Ganoush, Hummus, Falafel, and Greek Salad
Crack-like crinkle cut fries split with my friend Kim <3
Water!
Fresh Market okra fries
Fresh Market corn bread muffin (ahhhhh-dictive!)
How Sweet Eat's Mozzarella bites [
recipe
]
1 mini snickers [90 cal] ice cream bar
We had quite the party last week! Thanks so so much!!!!!!!
Before we get our party pants on, let's check out last week's
What I Ate Wednesday Fab Features
Liz finally joined us! Hooray! You would never have guessed it was her first WIAW
She shared her salad bar goodies and quite possibly the healthiest subway sub around!
Kate was feeling under the weather and still managed to link up her sick day eats.
She kicked butt with smoothies, veggies, and mucho vitamin C! Go Kate!
Here you go ladies!
Your Turn!
Show of what you're bringing to the party!
I'd love to see a day in the life of you! Meals, snacks, drinks — all that good stuff!
If you only have a meal or two to share, thats great too!
Simply photograph your eats any day of the week and create a What I Ate Wednesday post to link up. You can title it whatever you'd like and follow any format! If you only have time to photograph a meal or two — that will still qualify ya! Make sure you add my button to your post and hop on over to p&c to add your link (or just email me and i'll do it for you!)
Don't forget to
add the What I Ate Wednesday
BUTTON
somewhere in the post you are linking up. The button will help get the word out about What I Ate Wednesday, which could really use a little hype from my bloggy BFFS! Thanks so SO much! <3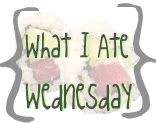 The Lively Kitchen
Road Theory
Spabettie
Sarah Learns
Run for the Bikini
221 Vision
Loving the Little Things
Vegan Sunshine
Greenderella
Feeding Ashley
Cotter Crunch